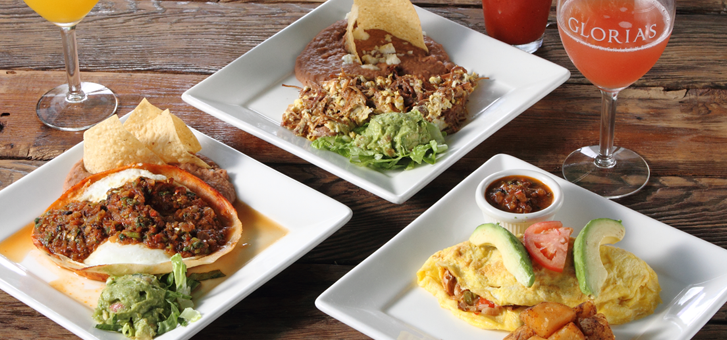 Gloria's: The brunch of champions
Let's be honest with ourselves here: brunch is one of the greatest inventions known to man. There's no denying it. It's a late breakfast/early lunch that revolves around great food, awesome beverages and friends and family. What's not to love? It's doesn't matter if you're trying to sort out the night before (for example, maybe you had an awesome time at Gloria's Nightlife and needed to recap) or are just meeting with your closest compadres...we love having you join us for brunch.
Possibly one of the best kept secrets in the Dallas - Fort Worth metroplex, Austin and Houston, there's plenty to love about Gloria's brunch. Let's start with the obvious: $1 Mimosas and $2 Pomegranate or Mango Mimosas. Right off the bat, you've already hit the best mimosa deal in town. Of course, if you're more of a Bloody Mary guy/gal don't worry, we make those as well (and they're quite awesome!) As you can imagine, great drinks must be accompanied by a great meal to complete a holy union of culinary superiority, so we've got some mouthwatering dishes including a wonderful selection of omlettes, some Tex-Mex favorites and traditional Mexican breakfast. Need some suggestions? Here's four dishes I'm really loving these days:
Huevos Rancheros: Two eggs over easy, topped with ranchero sauce on a corn tortilla. Served with pinto beans and guacamole salad.
Huevos a Caballo: Two eggs over easy on a skirt steak. Served with pinto beans and guacamole salad.
Chilaquiles: A traditional Mexican dish consisting of fried tortillas bathed in tomatillo sauce mixed with scrambled eggs and topped with cheese. Served with queso fresco, pinto beans and guacamole salad.
Chicken Fajita Omelette: Omelette filled with grilled chicken, jack cheese, onion, peppers, tortillas and salsa. Served with rosemary potatoes and mixed fruit.
Of course, there's plenty more dishes than these on the menu, but they're some great options to get you started. Veggies, Chicken, Beef: you name it. By all accounts, we've got you covered over here. Be sure to check out our great brunch menu to find your perfect fit. You can join us at one of our 15 Texas locations at any time. Be it brunch on the patio, at the bar, or the restaurant...we're ready to spend some time with you. Let's get together this weekend!